Design Trends and Inspiration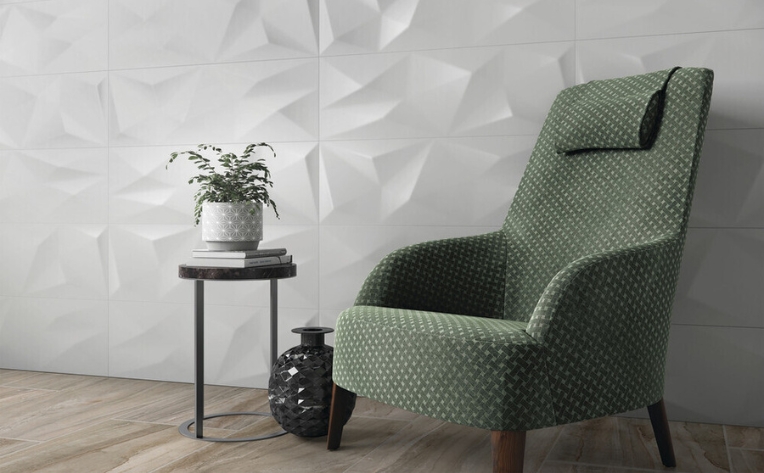 May 27, 2020
So, you're ready to jump into another home project—new floors. But before you set foot in a store, there are a few things you can do right at home to prepare for the project itself. From room size to flooring preferences to determining your budget, some initial planning will help ensure the project looks good in your home, and your bank account. You will need a few tools, but we can almost guarantee you'll have them all, starting with a tool you use every single day: your smartphone.
One of the first steps in preparing for new floors is determining the size of your room. And yes, your smartphone can make that happen. Most smartphones have a measuring app that uses the camera to measure a space or an object. And, for those who need a quick refresher on math, multiply the length by the width to get the area of the space. If your room isn't a perfect rectangle, break it up into multiple sections and add those areas together.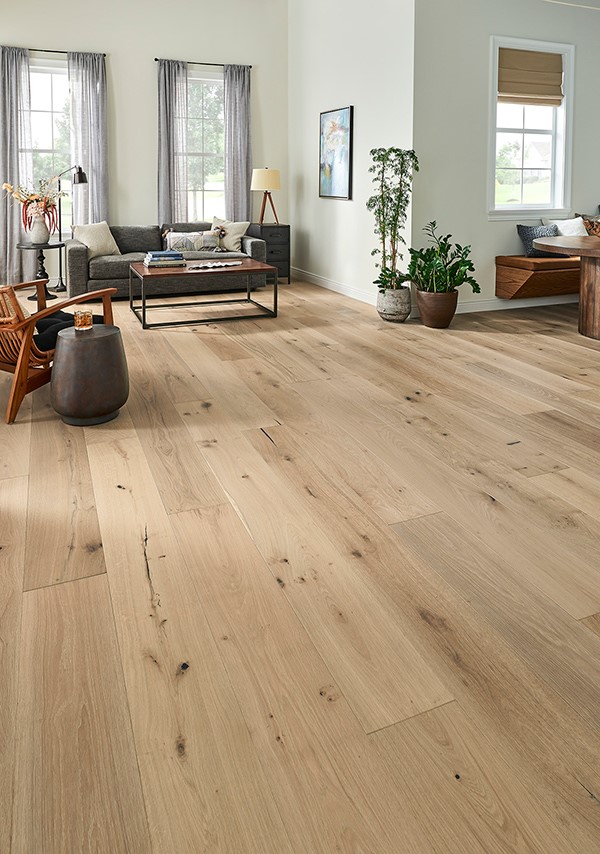 Budget & Materials
Next, let's talk about budget and materials. Your budget should include more than just the flooring material. You'll also want to think about underlayment (if required for your flooring selection), moldings and trim, installation and labor, and the removal and disposal of your existing floor.

Once you've got a set budget, take a look at floor types and prices. Depending on how much you're willing to spend, the higher the price you go, the higher in the quality you'll get. Though you can find some pretty durable options at a low price, the more you spend, the more durable your floors will be.
Although price is a huge factor in choosing which flooring material is right for you, be sure to think about the space itself and how much use it'll get. You'll want something that works for your lifestyle so your floors will last. Benjamin Franklin said it best: "The bitterness of poor quality remains long after the sweetness of low price is forgotten."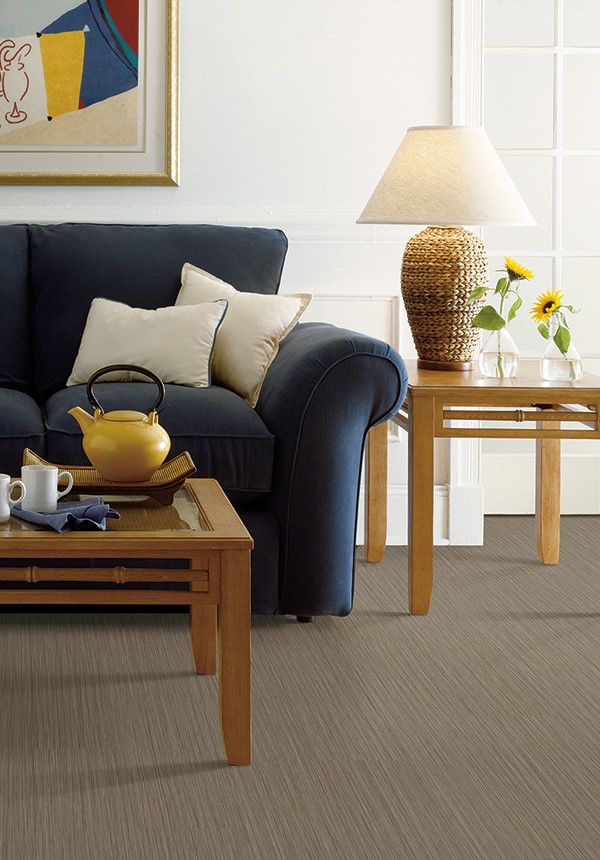 Style Preferences
OK, now that you've got an idea of budget and flooring materials, let's take a look at what your style preferences are. And we have just the tool to help you preview those new floors without leaving your home. Our room visualizer, My Floor Style, allows you to browse flooring options online. You can search through a library of images or upload your own. My Floor Style will drop your flooring selects into your image so you can see what they will look like in the room and your home.
And now, you may begin. Call your local Flooring America today to speak with our flooring experts. We love an informed customer, and we're here to partner with you so you can find a floor that truly works for you.
Continue Reading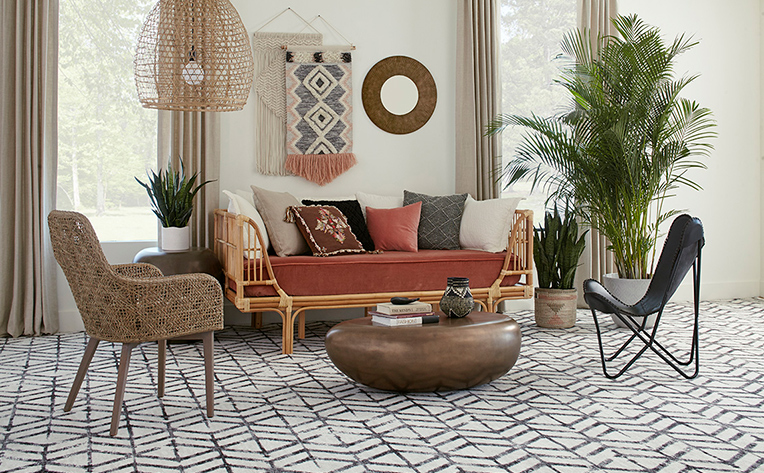 May 20, 2020
For years, homeowners have styled their homes around the clean, sleek look that hard-surface floors provide. But today, we're starting to see a shift in those preferences. The world is changing—people are spending more time at home—and people want to live, work, and grow in a more comfortable space. Right now, it's about the little things that make life more comfortable—your favorite blanket, a hot cup of coffee, and the feeling of carpet beneath your feet. Seek comfort in carpet, and make home your new sanctuary.

Modern-day carpet is stylish, comfortable, and personal. Plus, new technology keeps carpets clean and stain-free—perfect for every at-home family activity. See why homeowners are making the transition back to carpet (and why we think you should, too).

It's Super Stylish
Statement carpet is in. We're talking bold patterns, bright colors, even animal and floral prints. Homeowners are taking advantage of geometric styles to add a bit of texture to any room—living room, bedroom, and beyond. Modernize your home and make the carpet your room's focal point. It'll keep life at home just a bit more interesting.

It Keeps Life Cozy
No question, carpet is the most comfortable flooring option. There's nothing like rolling out of bed and feeling the warmth of the carpet beneath your feet, which is another reason why many homeowners are making the transition back to it. It's perfect for the kids to play—and for you to join. Carpet's soft and stain-resistant surface has boosted its popularity. Not to mention, carpet is a great insulator. It'll keep the room warm and act as a sound barrier to the rooms below. Say goodbye to the cold, stiffness of hard-surface floors, and hello to the comfort of carpet.

It Makes the Space Yours
Now that carpet's breaking through with bold styles and colors, it's an opportunity to let your personality shine within your home. Make it yours—and only yours. Let go of the classic sleek-and-simple designs, and welcome some pattern and color inside. Just as wallpaper adds an extra touch of personality to the room, so does your carpet. It's your home—let's make it feel that way.

Find comfort in the space you live in, and the floor you live on. Call your local Flooring America today to ask about our carpet selection. Our flooring experts will get you started with a wide variety of styles and options to make your home, well, yours.
Continue Reading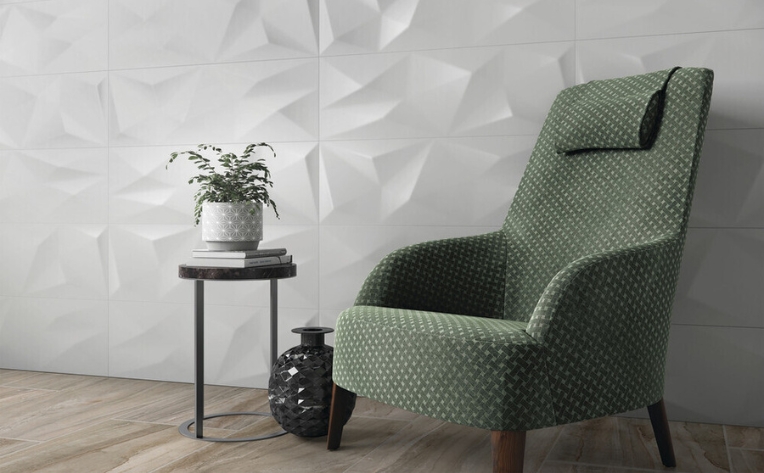 May 13, 2020
What's the best flooring for your kids' playroom? There are quite a few factors involved, including durability, stain-resistance, and safety. You want something that will stand up to everyday play but will also fit within your flooring preferences. Depending on your needs (and your style), we have a few different flooring options that range from classic to functional.
Carpet—a Classic
Carpet is one of the first flooring options that come to mind when thinking of playroom flooring. It's durable, soft, and warm. Plus, it adds a layer of insulation to the room to absorb sound—because we all know playtime can get a bit rowdy. Nylon carpet is highly recommended for a room like this, as it's both soft and durable while remaining resistant to stains. So, when the juice goes flying, you won't have to worry.
There are a few considerations about carpet, though, including its ability to harbor dust and allergens when regular vacuuming doesn't occur. As long as you're consistent about keeping it clean, and there are no underlying health issues in your family related to dirt and dust, carpet floors in the playroom will keep you and your kids happy for years to come.

Hardwood—a Stylish Classic
Hardwood is a great hard-surface option for a playroom if your kids are prone to spills and messes. And, let's be honest, what kid isn't? Hardwood is easy to clean and tends to last longer than carpet. It's also the perfect floor for the allergy-prone because it doesn't collect animal dander, dust, or pollen like carpets do. Just a quick pass with a dust mop and it's back to looking beautiful.
While hardwood is durable, you do have to protect against things like scratches from furniture or the family dog. An area rug or furniture leg pads can go a long way in protecting against scratches.

Laminate—an All-Purpose Option
Laminate looks like hardwood, but it's practically indestructible. It's scratch-resistant, moisture-resistant, and general wear and tear-resistant. Plus, it's easy to clean—all you need is a mop and a broom. It's another great option for kids with allergies and can be accented with an area rug to further personalize your look. Laminate comes in a variety of wood and tile patterns, so the possibilities are almost endless.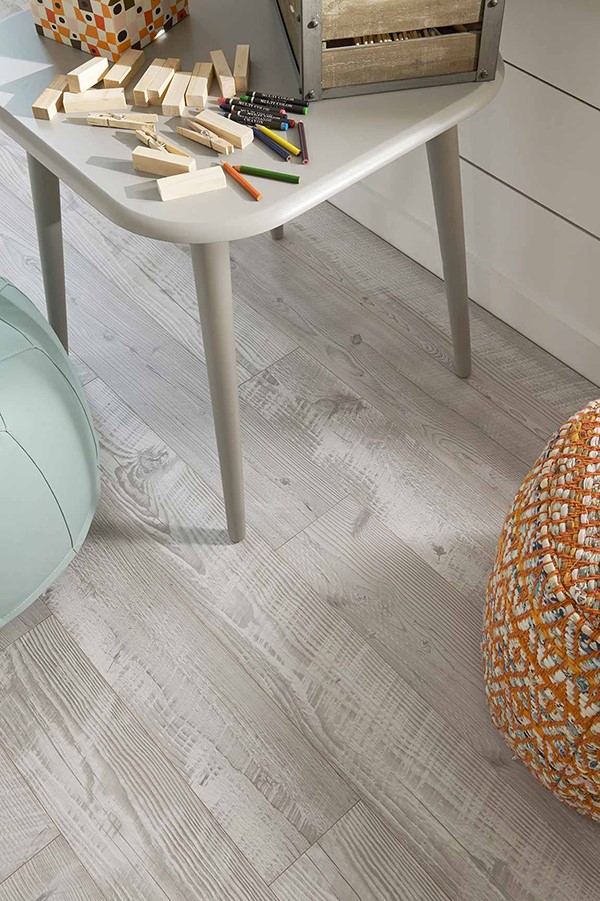 If there's one thing to take away here, it is that your playroom can be both durable and beautiful. After all, you want a space that allows your kids to have fun but doesn't make you want to keep the door closed. Call your local Flooring America today and talk to our flooring experts about the right floors for your kids. Whether it be ultra-durable, stain-resistant, or extra-soft, we're ready to help you find something that fits.
Continue Reading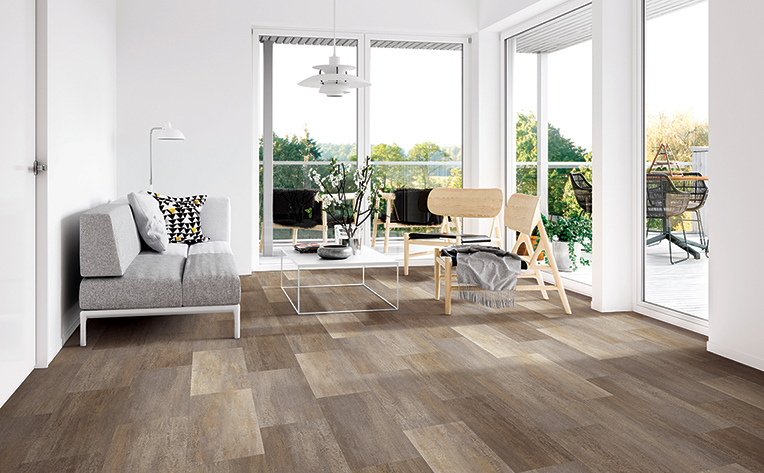 May 11, 2020
Are you all about that natural flooring look but not about the maintenance? We have three words for you: luxury vinyl tile (LVT). Make no mistake, this isn't your grandfather's vinyl floor. We're talking style, beautiful looks, ultra-durability, and affordable prices. Here are six reasons you should think about LVT for your floors.
Style
No really, style. LVT is a great alternative to natural flooring options like wood and stone while still appearing realistic. It comes in a range of shapes and sizes to give your home that authentic style without the extra installation expenses and concern about durability. Whether you're interested in hardwood, ceramic tile, or stone, LVT gives you the timeless look you've been searching for, for less.

Durability
One of the main reasons to choose LVT over natural hardwood or ceramic is its durability. It's made up of a series of layers to remain strong and stable. Thanks to its film layer covered with UV-cured urethane, LVT is known to be the most resilient flooring option—it's scuff, stain, and scratch-resistant. Talk about a triple threat.
Waterproof
In addition to its durability, LVT is also waterproof. Or spilled-milk-proof. Or pet-accident-proof. You get the picture. It's perfect for any floor, even bathrooms and kitchens. So, spill, splash, and play, LVT will stop it all—and look great doing it.

Easy to Clean
Unlike hardwood, the process to clean LVT is quick and simple. Its protective outer layer allows for it to remain like new for years to come. To clean, all it requires is a static dust broom. This quality makes LVT the perfect flooring option for high-traffic areas to keep your home bright and fresh.
Long-Lasting
LVT has long-lasting durability—upwards of 30 years of long-lasting durability! It can go years and still look new. Probably for as long as you will own your home. That being said, choose a timeless style. Something that will make you and your family happy for years to come.

Price
If all the other benefits haven't yet sold you on LVT, the price sure will. The cost of LVT ranges from $3-$7 per square foot. To put it into perspective, LVT is around half the price of regular hardwood. So you can get everything you want in a floor at an affordable price.

LVT—it's beautiful, strong, waterproof, easy, and affordable. It's not yesterday's flooring. It's tomorrows. So find out how you can get LVT installed by calling your local Flooring America today.
Continue Reading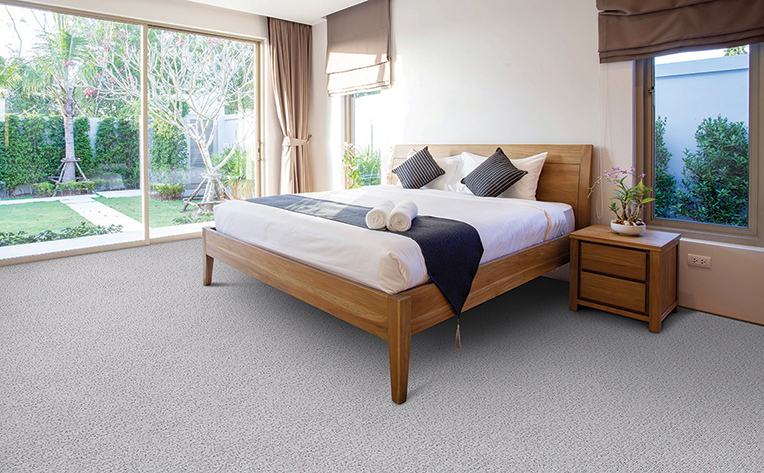 May 06, 2020
Carpet was made for families. It's a great, soft flooring option for kids to play on. But when juice or dirt get involved, it's also … not. Until now. Stain-resistant carpet is becoming an extremely popular flooring option for that soft, plush quality while preventing stains from spills. Whether it's food debris, spilled beverages, pet accidents, ink marks, or even rust, stain-resistant carpet can handle it. No matter what your price range, you can find a stain-resistant carpet that works for you and your family.
Wool
Wool is a naturally stain-resistant material. It's also highly durable with a soft, luxurious feel. Its natural qualities make it resistant to both dirt and oil. Wool is a great option if your kids and pets are prone to making a mess. It's stain-resistant, durable, and soft to the touch. And, what's not to love about wool carpeting? Wool comes with a high-end price tag; however, due to it's long lasting durability and sustainablilty, wool is worth the investment.
Nylon
While it's not a natural fiber, nylon is naturally stain-resistant. Made with a stain-resistant coating, nylon carpets are one of the most options. The coating allows it to resist spills and stains, which can easily be cleaned with soap and water. Nylon carpets are also soft to the touch, making them a perfect choice for families with kids and pets. Nylon is also the most durable synthetic material, making it a great option for rooms and hallways with high traffic.
Polyester
Polyester carpet is soft, bold, and strong. Just like nylon, this synthetic material is coated to be stain-resistant. Polyester is an ideal choice for those looking for a soft and stain-resistant carpet. A certain polyester, PET Polyester, is made from recycled plastic making it not only environmentally friendly, but also an economically friendly choice.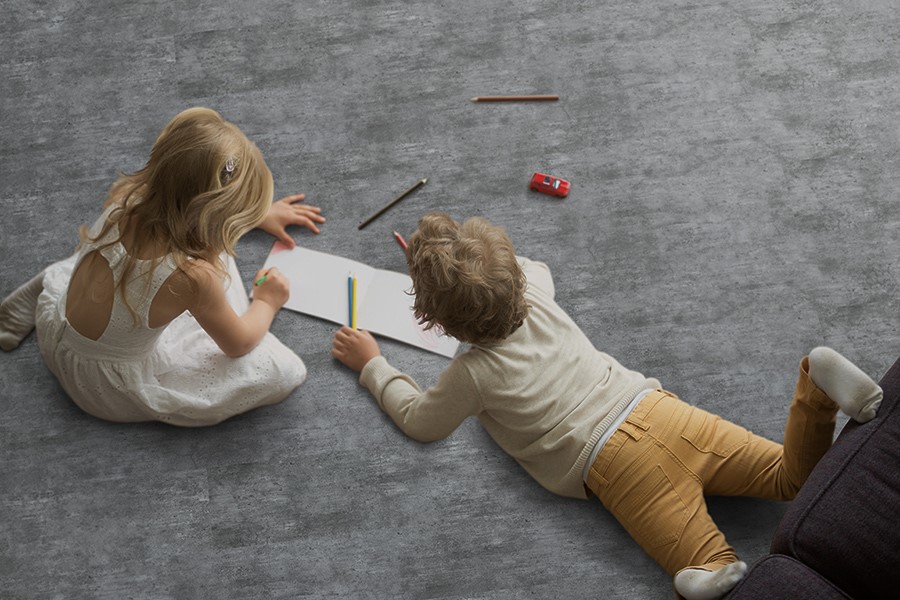 Whether it's for the kids, your pets, or yourself, stain-resistant carpet comes in a variety of beautiful, durable options. Call your local Flooring America today, and talk to us about your carpet needs. We offer a wide variety of soft, stain-resistant brands, from Tigressá® SoftStyle and Resista® to Innovia Touch Xtreme Clean™ and Stainmaster®. Soft, stain-resistant carpet. The search ends here.
Continue Reading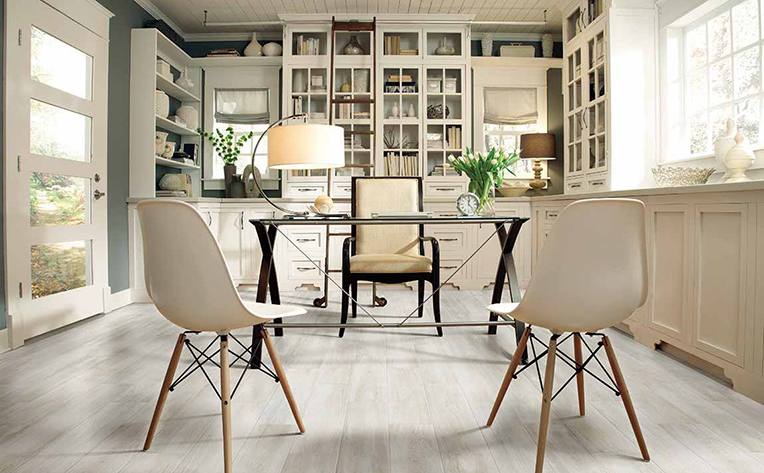 Apr 29, 2020
Working from home is a reality for so many of us right now. Work culture is changing, and for many businesses, the home office is becoming the primary office. So, if you're going to be spending more time there, why not make it a space you love? Say goodbye to storage bins and old furniture, and make room for your new and improved workspace.
Once you've cleared away all the "stuff," what do you see? That's right. Your floors. There's no better way to bring new energy to a room than with new floors. Find something that coincides with your work-from-home lifestyle. And before you know it, this new office space will have you inspired to get up and start working, every single morning.
You probably want something that handles spills and messes, too. Because your new workspace will inevitably also become your snack place, and the occasional full-on meal place. And speaking of additional uses—this space could have many different functions depending on who's with you. Here are our recommendations to help guide your vision for the space itself.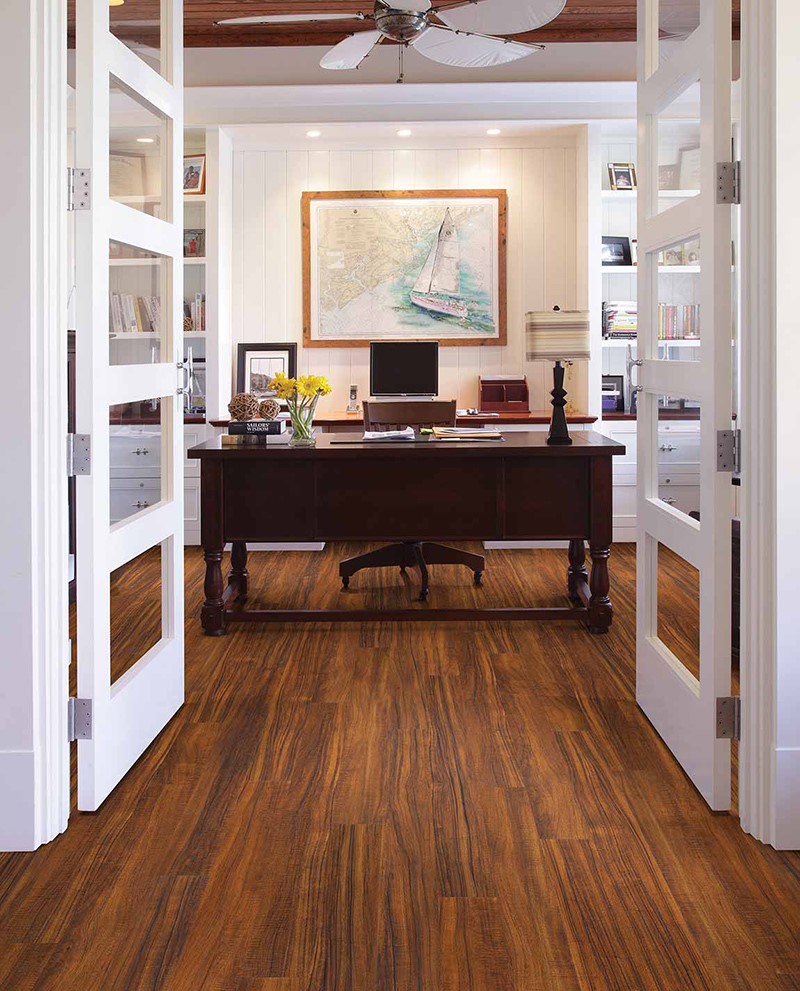 Your Workspace. And No One Else's.
Your work-from-home space is all yours. Well, mostly. So you might as well make it look like yours, too. And the floor is the perfect place to do so. Hardwood floors are a great option to spruce it up. Light to medium hardwoods will make the space look bright and clean, which directly associate with productivity and peace of mind. Style it with a nice rug and complementary cabinet color, and your office is good as new.
Another excellent flooring option for the home office is a luxury vinyl plank. It's affordable, it looks like hardwood, and it's known to be highly durable and waterproof. It can take on everything, from your rolling office chair to your spilled cup of coffee. Plus, it comes in many different styles, so you can find LVP flooring that truly fits your taste.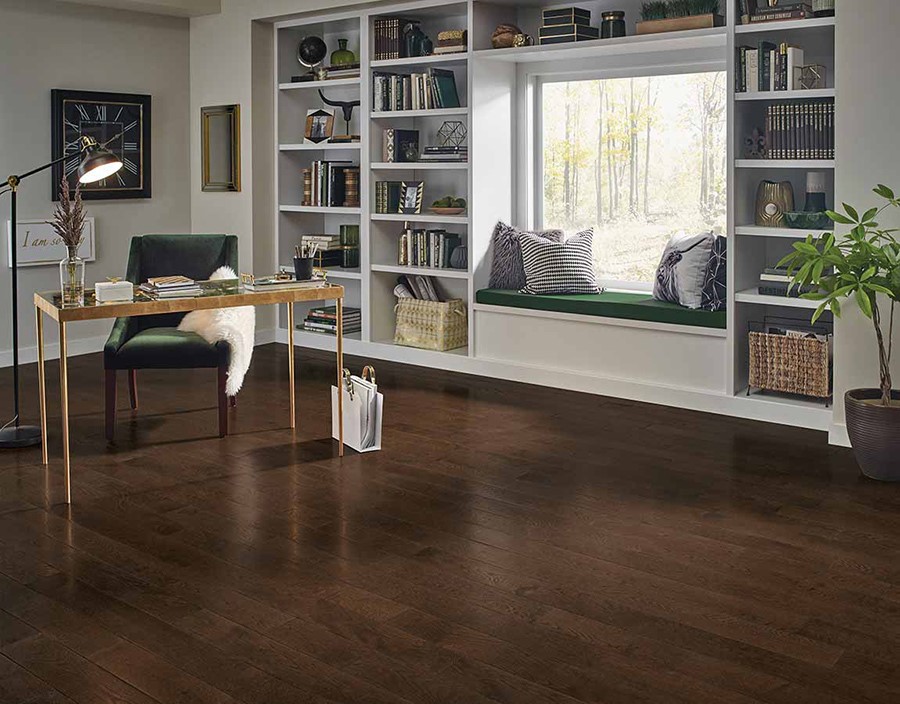 Workspace, School Space … Same Thing
Sure, you're home from work. But the kids are home from school, too. So, turn your home office into a space that works for all of you—go from homeschooling to work meeting, seamlessly. As mentioned, luxury vinyl is an exceptional hard-surface flooring option for a multipurpose room. It's beautiful, durable, and waterproof—perfect for every school (and work) activity. And with wood and tile styles, you can find something that works for you and your family.
If a hard-surface floor isn't right for you, try a stain-resistant carpet. It's soft, durable, and waterproof, allowing you to focus on the task at hand while your kids are, well, being kids. A stain-resistant carpet will keep the space clean, stopping every spill from juice to paint. Try to stay away from shag carpets, as it'll be tough to roll from one activity to another, especially with crayons or colored pencils hiding inside. Optimize this space with storage—enough to keep you organized as you go from school to work. Bonus: paint one of the walls with chalkboard or whiteboard paint. It'll keep your kids entertained and maybe even a bit productive.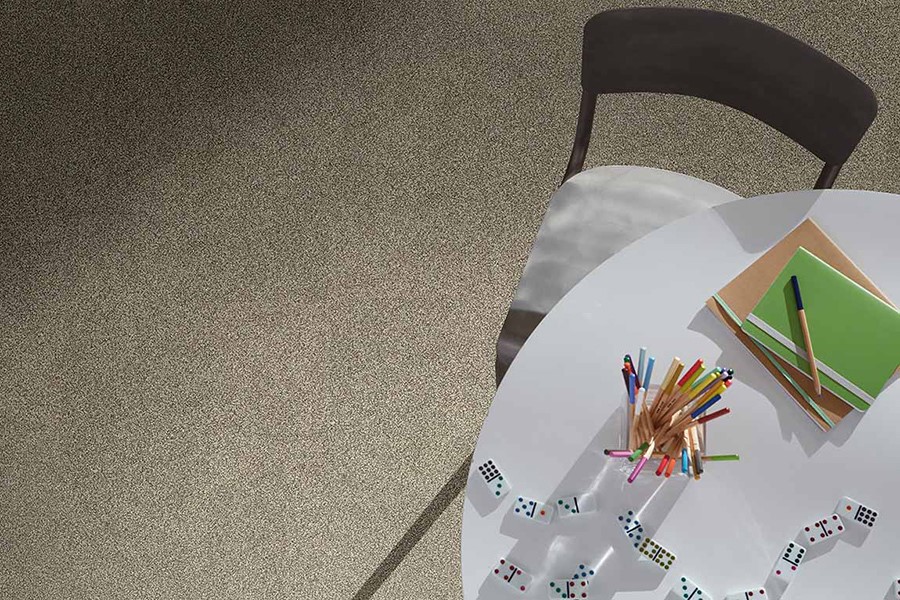 A Space for You and Your Four-Legged Friends
If you're not sharing the office with your kids, there's a good chance you're sharing it with your pets. They're happy to have you at home and to spend more time with you, even if it's at your feet while you work. Tile floors are perfect for pets, as they're easy to clean and incredibly durable. Tile comes in a variety of styles, allowing you to show off your personality while making it a space you can share with your furry friends. Plus, pet playtime is a great stress reliever, helping you to remain productive all day—even when that 3 pm slump hits.
Depending on the space, there are many flooring options for you to start your home office renovation. No matter who you share it with, it's important to make it a space you enjoy spending time in. Add a comfortable chair and some minimalist décor, and you're ready to go.
Call your local Flooring America today and talk to us about your home office vision. We'd be happy to chat with you about our wide selection of flooring options to make working from home just a little bit easier.
Continue Reading